Why we need Eco friendly Ganapathy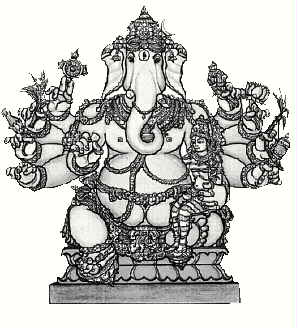 Ganesh...he is the one who clear the hassles in our lives...
but we are making the things critical and creating environment hassles by making Vighnaraj in unhealthy ways...
As per the Shashtras the puja should offer to either gold,silver or Clay idols.
But as the technology intervenes in between , POP and other elements taken place instead of Clay and other natural ingredients.
POP:Is a Gypsum product contains sulfur, phosphorous and magnesium and when dissolves water causes threat to aquatic life.

Thermacol :this element also just like plastic;it does not decompose.
Paints:the paints using to glow the idols mostly contains Lead and other toxics which will pollute water streams.
Plastic ornaments/others: Plastic is a material which can not get destroy easily in days or months it takes hundreds of years to dis integrate.
What are the alternate..?
Clay Idols: the best option against POP idols..and easily dissolve in water in hours time.Or can avail eco friendly idols made of paper and clay.
paper or natural sources like fresh flowers,Mango leaves for decoration:Can easily replace thermo col and plastic ornaments.
paints : can use natural colours which are widely available in market.which contain no toxics
Be a responsible...eco devotee...so that this year and all future years Ganesha can complete his visit in a healthy and green way....